SANATHANA DHARMA CHARITABLE TRUST  was registered on Thursday the 10th  February, 2000 ( Magha Panchami / Sree Panchami in Revati Nakshatram) at Anadavanam, Bheemunipatnam, Visakhapatnam Dist., Andhra Pradesh, India with the blessings of Sadguru Sri Sivananda Murty garu.
It has bee engaged actively in promoting studies in Indian culture, Indian History, promotion of unity and patriotism, Science and tradition. For over two decades we have been involved in such singular activities where distinguished Indians have been felicitated for their monumental work.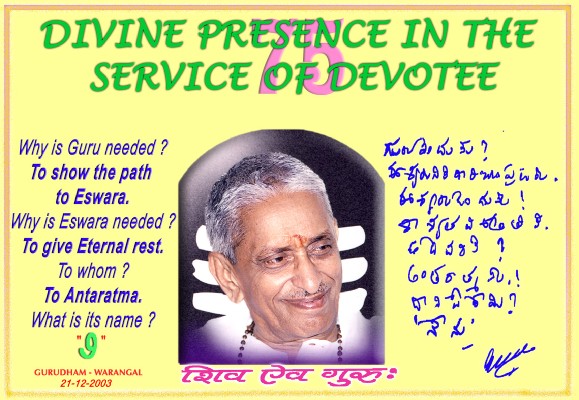 Important Activities of our Trust
To begin with, the Trust felt recognition of eminent citizens of our society an important activity to undertake.  Details of all such eminent citizens' awardees are enclosed.  These eminent citizens have done their states and the nation proud, and whose example is worthy of emulation by younger generations.  Every year the Trust has been undertaking this pleasant task of recognizing and rewarding such eminent citizens with a token cash award, citation and memento at a glittering function. On such occasions Governors of various states or Chiefs of Justice, Vice President of our country had graced the functions and given away these awards as Chief Guests.

Further, the Trust had undertaken honouring popular people from our State on the occasion of 'Sree Ramanavami' with Pratiba Puraskaram' and felicitated them with token cash award, citation and memento.  Number of scholars, artists, playwrights, short story writers and biographers received these awards and again at these felicitation functions we had the privilege of having eminent Judges or Jurists as Chief Guests of this function besides senior civil servants, academicians and men from public life.

The Trust undertook publication of Poojya Guruji's writings on several topics including biographical sketches of ancient Rishis and their contribution to growth of human civilization from pre-historic times, commentaries on Upanishads, aspects of good citizenship by delving into Itihasas like Ramayana and the Mahabharatha, spiritual significance of various festivals celebrated and travelogues from his tours within India and abroad.  Trust also extended liberal support for publication of books by several authors in English, Telugu and Hindi languages.

Trust under the benign guidance of Poojya Guruji undertook portrayal of Andhra history and culture in popular medium of television.  This work that lasted 13 episodes initially brought out glimpses of our history and culture from pre-historic times.  The episodes ran with the title of 'Mana Katha' (Our Story) were received quite well and praised.  We are glad to inform that the Trust is contemplating on completing the remaining episodes also in the same medium of television.  Also, in order to promote peace in a society torn by violence, Poojya Guruji has scripted the life and teachings of Lord Gautama Buddha through painstaking research and reading for a full length feature film in Hindi and Telugu which won the prestigious Special Jury (Nandi) Award from the Govt of Andhra Pradesh. 

We are also propagating music, dance and such performing arts.  The Trust sponsored 'Andhra Music Academy' and through that organization has been conducting annual music festivals at Hyderabad our capital city from the year 2001.  During these week-long festivals eminent and upcoming artists were provided platform to perform.  On such occasions, the Trust recognized eminent music and dance teachers and performers and conferred 'Sangeetha Vidya Nidhi' and 'Natya Vidya Nidhi' titles on them.  Further, for enabling interested people to learn Carnatic and  Hindustani styles of classical music, our Trust is running free music learning centres at Visakhapatnam, Hyderabad, Bobbili, Vizianagaram and Kakinada for several years now.  It is a matter of satisfaction to us that more than 300 children are availing this learning opportunity.  In addition to the annual music festival, the Trust is also organizing 'Sarada Sangeethotsavam' every year from 2002 in district head quarters in the State.  So far we had conducted these festivals at Vizianagaram, Machilipatnam, Ananthapur, Visakhapatnam, Kakinada, Vijayawada and Nellur.  This year, it will be held at Guntur.  Again, eminent musicians of that region are honoured at these festivals every year.

In addition to the activities that have been continued so far in propagation of classical fine arts as music and dance, the Trust has been conducting the 'Vaggeyakara Festival' from 2007 at Visakhapatnam.  The main focus during this five day festival is on the contribution of music composers who have created a wealth of bhakti literature in the form of songs, kirtans, padams and satakams in Telugu and Sanskrit.  Preservation of these literary master-pieces is verily a challenge as musicians and listeners are often carried away by only musical content and not the scholarship of literature and fine aspects of meter and rhyme and the cultural beliefs and practices embedded in these compositions.

Another significant activity of our Trust is the exhibition on Telugu heritage that we arrange at the same venue where the above mentioned music festivals are conducted.  With the help of more than four hundred charts and real artifacts this exhibition enables the viewer to understand the cultural, religious, social and political history of our State dating back to pre-historic times to modern times.  Brief sketches of all those who contributed significantly in enriching our language, history, polity, governance and statecraft are displayed in this exhibition.  Rare paintings and photographs are part of this unique exhibition It is not an exaggeration to say that this exhibition is a unique experience to all viewers and particularly to the school-going and college-going youth.

Trust conducted medical camps in some of the interior tribal pockets of our State and other parts of our country also.  With services rendered by our medical doctors in our group at these camps in tribal areas we distributed medicines (free) in addition to clothing and other necessities.  These camps were also held in  Arunachal Pradesh, Jharkhand, Madhya Pradesh, Gujarat, Rajasthan besides Andhra Pradesh.